About Us
Sunrise is a Chinese takeaway in Belfast. Why don't you try our Pork with Szechuan Sauce or Chicken Chop Suey?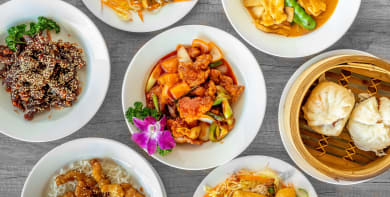 Reviews
327 reviews
Holly
"Amazing"
26/07/2021
GILLIAN
"Even our food was deliver late. The food was still piping hot and yummy"
22/07/2021
Billy
"Tastiest chicken curry ever,"
17/07/2021
Mandi
"One of the best Chinese Iv had in a very long time."
13/07/2021
Menu
Diet Coca-Cola Large Bottle
£2.50
Fanta Orange Large Bottle
£2.50
Snack Box
2 chicken balls, 2 sausages, 2 ribs & sauce with tin Coke
Choice of curry, gravy sauce, sweet & sour or barbecue sauce
£7.20
A1
Half chips, half fried rice, 4 chicken balls & sauce & Coke
Choice of curry, gravy sauce, sweet & sour or barbecue sauce
£6.00
Homemade Vegetable Spring Roll (4) & Chilli Dip
£3.80
Cheese Chicken Roll (4) & Chilli Dip
£3.80
Salted Chilli Chicken Wings
£4.90
Chicken Wings in Sauce Peking
£4.90
Chicken Wings in Sauce Sweet Chilli
£4.90
Chicken Kebab in Salted Chilli
£5.10
Ribs with Salted Chilli Boneless
£5.60
Ribs with Salted Chilli On Bone
£5.60
Ribs with Peking Sauce
Boneless
£5.60
Crispy Beef in Salted Chilli
£5.30
Crispy Beef with Honey Chilli Wine Sauce
£5.30
Crispy Chicken in Salted Chilli
£5.30
Crispy Chicken with Honey Chilli Wine Sauce
£5.30
Crispy King Prawn in Salted Chilli
£5.80
Crispy Squid in Salted Chilli
£5.80
Salty Chilli Rib, Salty Chilli Chicken, Prawn Toas
£9.00
Fried King Prawn with Salted Chilli
£7.90
Fried King Prawn with Green Pepper & Black Bean
Sauce
£7.90
Fried King Prawn with Ginger & Spring Onion
£7.90
Fried King Prawn with Cashew Nuts
£7.90
Fried King Prawn with Irish Mushrooms
£7.90
Fried King Prawn with Hot Spice Sauce
£7.90
Fried King Prawn with Black Pepper Sauce
£7.90
King Prawn with Garlic Sauce
£7.90
King Prawn with Pineapple
£7.90
Fried King Prawn with Bean Sprouts
£7.90
Fried King Prawn with Bamboo Shoots & Water
Chestnuts
£7.90
Crispy King Prawn with Sweet Chilli Sauce
£7.90
Duck with Spring Onion & Ginger in Oyster Sauce
£8.20
Duck with Black Pepper Sauce
£8.20
Duck with Green Pepper in Black Bean Sauce
£8.20
Grilled Chicken in Orange Sauce
£7.40
Grilled Chicken in Peking Sauce
£7.40
Grilled Chicken in Lemon Sauce
£7.40
Fried Sliced Chicken with Green Pepper & Black
Bean Sauce
£7.40
Fried Sliced Chicken with Irish Mushroom
£7.40
Fried Sliced Chicken with Pineapple
£7.40
Fried Sliced Chicken with Mixed Vegetables
£7.40
Crispy Chicken in Salted Chilli
£7.40
Fried Sliced Chicken with Hot Spice Sauce
£7.40
Fried Sliced Chicken with Black Pepper Sauce
£7.40
Crispy Chicken with Honey Chilli & Wine Sauce
£7.40
Crispy Chicken with Thai Sweet Chilli Sauce
£7.40
Fried Sliced Chicken with Sweetcorn
£7.40
Fried Chicken with Bean Sprouts
£7.40
Fried Chicken with Bamboo Shoots & Water
Chestnuts
£7.40
Fried Chicken with Tomatoes
£7.40
Sliced Beef with Green Pepper & Black Bean Sauce
£7.40
Crispy Beef with Honey Chilli & Wine Sauce
£7.40
Sliced Beef with Ginger & Spring Onion
£7.40
Sliced Beef with Irish Mushrooms
£7.40
Sliced Beef with Hot Spice Sauce
£7.40
Crispy Salt & Chilli Beef
£7.40
Sliced beef with Black Pepper Sauce
£7.40
Fried Beef with Bean Sprouts
£7.40
Fried Beef with Bamboo Shoots & Water Chestnuts
£7.40
Fried Beef with Pineapple
£7.40
Sweet & Sour Beef Cantonese Style
£7.40
Beef with Mixed Vegetables
£7.40
Roast Pork with Irish Mushrooms
£7.40
Roast Pork with Cashew Nuts
£7.40
Roast Pork with Green Pepper & Black Bean Sauce
£7.40
Roast Pork with Bean Sprouts in Barbeque Sauce
£7.40
King Prawn in Kung Po Sauce
£7.90
Special with Szechuan Sauce
£7.90
King Prawn with Szechuan Sauce
£7.90
Chicken with Szechuan Sauce
£7.40
Mixed Vegetable with Szechuan Sauce
£6.90
King Prawn in Satay Sauce
£7.90
Mixed Vegetables in Satay Sauce
£6.90
House Special Fried Rice with Gravy
Egg on top
£7.90
Mixed Grill
Sirloin, pork chop, liver, bacon, sausage
Peas, onions & mushroom
£8.80
Sirloin Steak
Peas, onion & mushrooms
£9.30
Pork Fillet
Peas, onion & mushrooms
£8.20
Chicken Maryland
No sauce
£8.20
Pork Chop
Peas, onion & mushrooms
£7.50
Breast of Chicken Supper
On bone
£7.20
Breast of Chicken
On its own
£5.20
Sliced Chicken Supper
Breast off bone
£6.90
Special Honey Chilli Sauce
£7.90
Sweet & Sour Special Cantonese
£7.90
Crispy Squid in Salted Chilli
£7.90
Bamboo Shoots & Water Chestnuts
£3.20
Small Sauces Black Pepper
£2.00
Small Sauces Garlic Chilli
£2.00
Small Sauces Honey Chilli
£2.00
Small Sauces Sweet & Sour
£2.00
Medium Sauces Black Pepper
£2.50
Medium Sauces Garlic Chilli
£2.50
Medium Sauces Honey Chilli
£2.50
Medium Sauces Sweet & Sour
£2.50
Large Sauces Black Pepper
£3.00
Large Sauces Garlic Chilli
£3.00
Large Sauces Honey Chilli
£3.00
Large Sauces Sweet & Sour
£3.00
Curry Fried Rice (Half Portion)
£3.00
Curry Chips (Half Portion)
£2.70
Gravy Chips (Half Portion)
£2.70
Half Fried Rice, Half Chip with Sauce Curry
£3.80
Half Fried Rice, Half Chip with Sauce Gravy
£3.80
Half Noodles, Half Chip with Sauce Curry
£4.10
Half Noodles, Half Chip with Sauce Gravy
£4.10
Kids Ribs (2) & Chicken Ball (1)
£3.90
Kids Ribs (2) & Crispy Chicken
£3.90
Kids Sausage (1) & Chicken Balls (2)
£3.90
Kids Spring Roll (1) & Chicken Balls (2)
£3.90
Kids Crispy Chicken Wings (2) & Sausage (1)
£3.90
Kids Sliced Chicken Supper
£3.90
Kids Chicken Fried Rice
No chips & sauce
£3.90
Kids Chicken Chow Mein
No chips & sauce
£3.90
Dinner for One
Choose any starter & main course (sirloin steak and mixed grill is not included) with tin of Coke 
Includes boiled rice OR chips
Fried rice 30p extra
Half & half £1.00 extra
Soft Noodles £1.00 extra
£10.50
Dinner for Two
Ribs with lemon
Beef with green peppers in black bean sauce
Sweet & sour chicken in Cantonese style
Yeung chow fried rice for two
Banana OR pineapple fritter
Prawn crackers
£20.00
Contact Us
Find Us
9 Kings Square, Belfast, BT57EA
We deliver to
BT16, BT23, BT4, BT5, BT6