About Us
Sunrise is a Chinese takeaway in Belfast. Why don't you try our Pork with Szechuan Sauce or Chicken Chop Suey?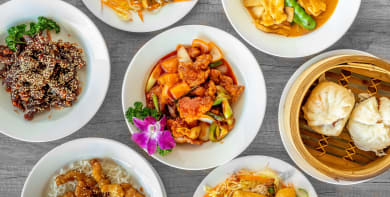 Reviews
364 reviews
Kapeela
"Food was lovely!! We had the Peking duck which was amazing and the salted chilli squid was so tasty. Really recommend!!"
26/10/2020
Sandra
"Food good and service excellent. Food arrived 30 minutes early. Courier was pleasant and efficient"
19/10/2020
Chris
"Great as always!"
17/10/2020
Clive
"Curry chip ordered and also on delivery note but gravy chip delivered everything else was delivered in good order."
16/10/2020
Menu
Salty Chilli Rib, Salty Chilli Chicken, Prawn Toas
£9.00
Special Honey Chilli Sauce
£7.90
Sweet & Sour Special Cantonese
£7.90
Crispy Squid in Salted Chilli
£7.90
King Prawn in Kung Po Sauce
£7.90
Diet Coca-Cola Large Bottle
£2.50
Fanta Orange Large Bottle
£2.50
Special with Szechuan Sauce
£7.90
King Prawn with Szechuan Sauce
£7.90
Chicken with Szechuan Sauce
£7.40
Mixed Vegetable with Szechuan Sauce
£6.90
Fried King Prawn with Salted Chilli
£6.00
Fried King Prawn with Green Pepper & Black Bean
Fried King Prawn with Ginger & Spring Onion
Fried King Prawn with Cashew Nuts
Fried King Prawn with Hot Spice Sauce
Fried King Prawn with Irish Mushrooms
Fried King Prawn with Black Pepper Sauce
King Prawn with Garlic Sauce
King Prawn with Pineapple
Fried King Prawn with Bean Sprouts
Fried King Prawn with Bamboo Shoots & Water
Crispy King Prawn with Sweet Chilli Sauce
Duck with Spring Onion & Ginger in Oyster Sauce
Duck with Black Pepper Sauce
Duck with Green Pepper in Black Bean Sauce
Grilled Chicken in Orange Sauce
Grilled Chicken in Peking Sauce
Grilled Chicken in Lemon Sauce
Fried Sliced Chicken with Green Pepper & Black
Fried Sliced Chicken with Irish Mushroom
Fried Sliced Chicken with Pineapple
Fried Sliced Chicken with Mixed Vegetables
Crispy Chicken in Salted Chilli
Fried Sliced Chicken with Hot Spice Sauce
Fried Sliced Chicken with Black Pepper Sauce
Crispy Chicken with Honey Chilli & Wine Sauce
Crispy Chicken with Thai Sweet Chilli Sauce
Fried Sliced Chicken with Sweetcorn
Fried Chicken with Bean Sprouts
Fried Chicken with Bamboo Shoots & Water
Fried Chicken with Tomatoes
Sliced Beef with Green Pepper & Black Bean Sauce
Crispy Beef with Honey Chilli & Wine Sauce
Sliced Beef with Ginger & Spring Onion
Sliced Beef with Irish Mushrooms
Sliced Beef with Hot Spice Sauce
Crispy Salt & Chilli Beef
Sliced beef with Black Pepper Sauce
Fried Beef with Bean Sprouts
Fried Beef with Bamboo Shoots & Water Chestnuts
Fried Beef with Pineapple
Sweet & Sour Beef Cantonese Style
Beef with Mixed Vegetables
Roast Pork with Irish Mushrooms
Roast Pork with Cashew Nuts
Roast Pork with Green Pepper & Black Bean Sauce
Roast Pork with Bean Sprouts in Barbeque Sauce
King Prawn in Kung Po Sauce
Special with Szechuan Sauce
King Prawn with Szechuan Sauce
Chicken with Szechuan Sauce
Mixed Vegetable with Szechuan Sauce
King Prawn in Satay Sauce
Mixed Vegetables in Satay Sauce
Sweet & Sour King Prawn Batter
Sweet & Sour King Prawn Cantonese
Sweet & Sour Chicken Batter
Sweet & Sour Chicken Cantonese
Duck with Spring Onion & Ginger in Oyster Sauce
£8.20
Duck with Black Pepper Sauce
£8.20
Duck with Green Pepper in Black Bean Sauce
£8.20
Homemade Vegetable Spring Roll (4) & Chilli Dip
£3.80
Cheese Chicken Roll (4) & Chilli Dip
£3.80
Salted Chilli Chicken Wings
£4.90
Chicken Wings in Sauce Sweet Chilli
£4.90
Chicken Wings in Sauce Peking
£4.90
Chicken Kebab in Salted Chilli
£5.10
Ribs with Salted Chilli Boneless
£5.60
Ribs with Salted Chilli On Bone
£5.60
Ribs with Peking Sauce
Boneless
£5.60
Crispy Beef in Salted Chilli
£5.30
Crispy Beef with Honey Chilli Wine Sauce
£5.30
Crispy Chicken in Salted Chilli
£5.30
Crispy Chicken with Honey Chilli Wine Sauce
£5.30
Crispy King Prawn in Salted Chilli
£5.80
Crispy Squid in Salted Chilli
£5.80
Grilled Chicken in Orange Sauce
£7.40
Grilled Chicken in Peking Sauce
£7.40
Grilled Chicken in Lemon Sauce
£7.40
Fried Sliced Chicken with Green Pepper & Black
Bean Sauce
£7.40
Fried Sliced Chicken with Irish Mushroom
£7.40
Fried Sliced Chicken with Pineapple
£7.40
Fried Sliced Chicken with Mixed Vegetables
£7.40
Crispy Chicken in Salted Chilli
£7.40
Fried Sliced Chicken with Hot Spice Sauce
£7.40
Fried Sliced Chicken with Black Pepper Sauce
£7.40
Crispy Chicken with Honey Chilli & Wine Sauce
£7.40
Crispy Chicken with Thai Sweet Chilli Sauce
£7.40
Fried Sliced Chicken with Sweetcorn
£7.40
Fried Chicken with Bean Sprouts
£7.40
Fried Chicken with Bamboo Shoots & Water
Chestnuts
£7.40
Fried Chicken with Tomatoes
£7.40
Sliced Beef with Green Pepper & Black Bean Sauce
£7.40
Crispy Beef with Honey Chilli & Wine Sauce
£7.40
Sliced Beef with Ginger & Spring Onion
£7.40
Sliced Beef with Irish Mushrooms
£7.40
Sliced Beef with Hot Spice Sauce
£7.40
Crispy Salt & Chilli Beef
£7.40
Sliced beef with Black Pepper Sauce
£7.40
Fried Beef with Bean Sprouts
£7.40
Fried Beef with Bamboo Shoots & Water Chestnuts
£7.40
Fried Beef with Pineapple
£7.40
Sweet & Sour Beef Cantonese Style
£7.40
Beef with Mixed Vegetables
£7.40
Roast Pork with Irish Mushrooms
£7.40
Roast Pork with Cashew Nuts
£7.40
Roast Pork with Green Pepper & Black Bean Sauce
£7.40
Roast Pork with Bean Sprouts in Barbeque Sauce
£7.40
Bamboo Shoots & Water Chestnuts
£3.20
Curry Fried Rice (Half Portion)
£3.00
Curry Chips (Half Portion)
£2.70
Gravy Chips (Half Portion)
£2.70
Half Fried Rice, Half Chip with Sauce Curry
£3.80
Half Fried Rice, Half Chip with Sauce Gravy
£3.80
Half Noodles, Half Chip with Sauce Curry
£4.10
Half Noodles, Half Chip with Sauce Gravy
£4.10
Small Sauces Sweet & Sour
£2.00
Small Sauces Black Pepper
£2.00
Small Sauces Garlic Chilli
£2.00
Small Sauces Honey Chilli
£2.00
Medium Sauces Sweet & Sour
£2.50
Medium Sauces Black Pepper
£2.50
Medium Sauces Garlic Chilli
£2.50
Medium Sauces Honey Chilli
£2.50
Large Sauces Sweet & Sour
£3.00
Large Sauces Black Pepper
£3.00
Large Sauces Garlic Chilli
£3.00
Large Sauces Honey Chilli
£3.00
Fried King Prawn with Salted Chilli
£7.90
Fried King Prawn with Green Pepper & Black Bean
Sauce
£7.90
Fried King Prawn with Ginger & Spring Onion
£7.90
Fried King Prawn with Cashew Nuts
£7.90
Fried King Prawn with Irish Mushrooms
£7.90
Fried King Prawn with Hot Spice Sauce
£7.90
Fried King Prawn with Black Pepper Sauce
£7.90
King Prawn with Garlic Sauce
£7.90
King Prawn with Pineapple
£7.90
Fried King Prawn with Bean Sprouts
£7.90
Fried King Prawn with Bamboo Shoots & Water
Chestnuts
£7.90
Crispy King Prawn with Sweet Chilli Sauce
£7.90
Mixed Grill
Sirloin, pork chop, liver, bacon, sausage
Peas, onions & mushroom
£8.80
Sirloin Steak
Peas, onion & mushrooms
£9.30
Pork Fillet
Peas, onion & mushrooms
£8.20
Chicken Maryland
No sauce
£8.20
Pork Chop
Peas, onion & mushrooms
£7.50
Breast of Chicken Supper
On bone
£7.20
Breast of Chicken
On its own
£5.20
Sliced Chicken Supper
Breast off bone
£6.90
King Prawn in Satay Sauce
£7.90
Mixed Vegetables in Satay Sauce
£6.90
Dinner for One
Choose any starter & main course (sirloin steak and mixed grill is not included) with tin of Coke & prawn crackers
Includes boiled rice OR chips
Fried rice 30p extra
Half & half £1.00 extra
Soft Noodles £1.00 extra
£10.50
Dinner for Two
Ribs with lemon
Beef with green peppers in black bean sauce
Sweet & sour chicken in Cantonese style
Yeung chow fried rice for two
Banana OR pineapple fritter
Prawn crackers
£20.00
House Special Fried Rice with Gravy
Egg on top
£7.90
Kids Ribs (2) & Chicken Ball (1)
£3.90
Kids Ribs (2) & Crispy Chicken
£3.90
Kids Sausage (1) & Chicken Balls (2)
£3.90
Kids Spring Roll (1) & Chicken Balls (2)
£3.90
Kids Crispy Chicken Wings (2) & Sausage (1)
£3.90
Kids Sliced Chicken Supper
£3.90
Kids Chicken Fried Rice
No chips & sauce
£3.90
Kids Chicken Chow Mein
No chips & sauce
£3.90
Snack Box
2 chicken balls, 2 sausages, 2 ribs & sauce with tin Coke
Choice of curry, gravy sauce, sweet & sour or barbecue sauce
£7.20
A1
Half chips, half fried rice, 4 chicken balls & sauce & Coke
Choice of curry, gravy sauce, sweet & sour or barbecue sauce
£6.00
Contact Us
Find Us
9 Kings Square, Belfast, BT57EA
We deliver to
BT16, BT23, BT5